IMPULS Small Grant Program – new approaches in changing mentalities.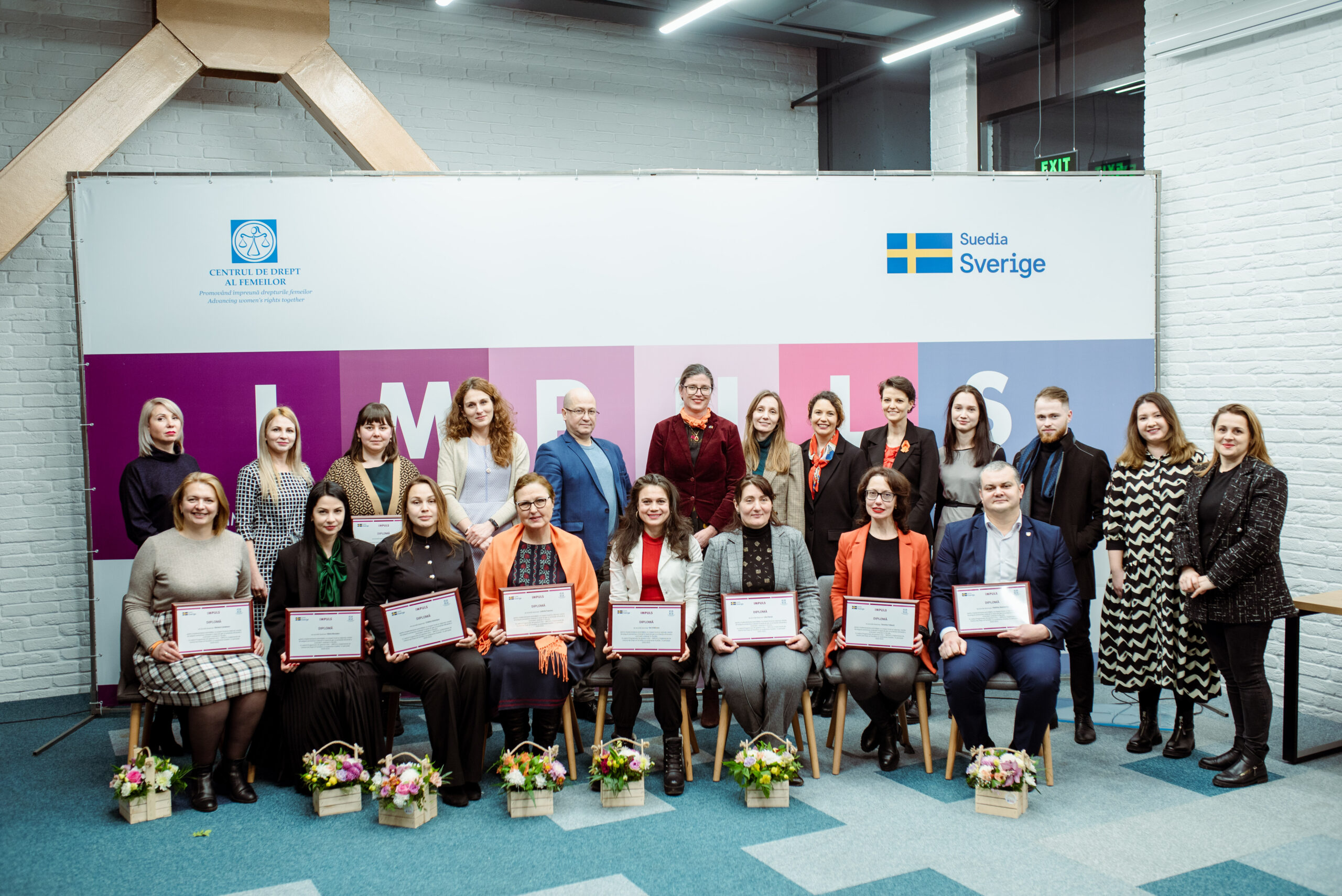 Preventing and combating gender-based violence advanced to another level. Over a period of three years, the IMPULS Small Grants Program trained 12 agents of change to develop and implement activities in communities, for professionals and victims of gender-based violence.
The agents of change were supported by the Embassy of Sweden in Chisinău through the Women's Law Centre during 2020-2022. They had previously been trained under the Advanced International Training Program: 'Prevent and Respond to Gender-Based Violence – Strengthening Agents of Change', for professionals from Albania, Kosovo, Montenegro, the Republic of Moldova and Ukraine. The Republic of Moldova has been participating in this program since 2018. The trainees include prosecutors, police officers, forensic examiners, representatives of central authorities and of the civil society.
The agents of change had the opportunity to share with their peers the knowledge and skills they had gained in the Program and to engage in problem solving. Most of the projects carried out by the agents of change focused on identifying the problems that cause gender-based violence and on finding solutions to address them. Workshops, round tables, studies, seminars were organised and attended by different groups of beneficiaries. They shared experiences and deepened their knowledge and skills in working with victims of gender-based violence.
For some of them this was an additional opportunity to test their abilities in setting projects up and ensuring their integration in day-to-day work.
Mariana Buruiană, Executive Director of the Women's Law Centre, said that under the IMPULS Program, Women's Law Centre consolidated a sustainable platform of agents of change, aimed at restoring dignity, equality and access to justice for women.
'Helped by the agents of change, thanks to their attitudes, capabilities and skills, we have kick-started a number of initiatives, processes and systems to ensure a dignified and safe present and future for girls and women. A future without inequality and violence', the WLC Executive Director added.
Katarina Fried, the Swedish Ambassador to the Republic of Moldova praised the work of the agents of change for the new outlook they gave to their co-workers and the communities they belong to. In her opinion, the knowledge and tools they acquired will be very important in the discussions about how make society safer for everyone.
'More awareness, more individual and collective accountability are needed to end violence. Our shared vision is to empower as many people as possible to achieve amazing results, and agents of change, through their ambition and determination, can build a better world. They will inspire their colleagues, young women and men to overcome challenging situations and show solidarity with those who are going through tough times.', HE the Ambassador Katarina Fried mentioned.
Ludmila Popovici is director and psychologist at the 'Memoria' Rehabilitation Centre for Victims of Torture. As one of the activities supported by IMPULS, she carried out two projects to train doctors and social workers on providing quality services to victims of gender-based violence. Methodologies and guidelines were also developed to address social, medical and legal issues.
'The government is not yet able to provide timely and comprehensive response to the needs of victims of gender-based violence, while non-governmental organisations that provide services to GBV victims do not have the resources and capacity to address all their needs. Taking these realities as a starting point, we need better organisation, continuous education and cooperation in order to provide multidisciplinary and multidimensional support to victims', Ludmila Popovici said.
For three years, dozens of psychologists, social workers, case managers and psychotherapists were trained in IMPULS projects on how to identify and respond to a variety of cases of abuse. Special emphasis was placed on training specialists from non-governmental organisations. Veronica Teleucă, coordinator of the National Coalition 'Life Without Violence', worked with several colleagues from different organisations specialised in helping victims.
'Child sexual abuse is very sensitive and specific a matter, and it always requires an exchange of experience between the specialists involved to better understand the complexity of these cases. This pandemic period has seen an increase in the number of cases of child sexual abuse, so project activities were implemented to support the efforts of specialists in detecting, documenting and addressing them.', Veronica Teleucă said. One of her projects also focused on the specifics of emergency psychological and psychotherapeutic care for people affected by war.
Several representatives of law enforcement bodies were among the agents of change. They addressed issues regarding the training of colleagues on prevention and response to gender-based violence. There were also projects that focused on identifying cases of workplace discrimination among male and female police officers and addressing gender-based violence in the police.
Mariana Carabanov, a police officer and member of the Association of Women in Police, informed her colleagues about sexual harassment and about how to perform their professional duties more safely. 'The proposals from superiors to develop a roadmap for addressing gender-based violence or to integrate the data into a training course are further evidence that the objectives of the awareness-raising project were achieved.', the police officer mentioned. She added that sexual harassment at work undermines the safety of employees and affects the quality of ones work.
A number of workshops, clubs and other activities for the final beneficiaries of the projects took place in parallel with the training of specialists. Dozens of victims of gender-based violence discussed the effects of violence, gaining economic independence, defending the rights of and supporting women who experience violence of any kind. These discussions, according to participants, are a major step towards recognising the problems they face and towards identifying solutions.